Bed Store on the Sunshine Coast
Are you in search of a reputable bed shop on the Sunshine Coast?
Visit Beds Galore! We provide only the finest quality, locally-made mattresses, bases and bed heads As a family-run business, all the mattresses, bed heads, and beds we provide are made especially for us, ensuring that our personal standards are always met.
Nothing says home like your own bed, and since we spend one-third of our lives asleep, the bed you choose should be considered an investment into your health and lifestyle.
Are you looking for a bed shop on the Sunshine Coast? Browse some of our selection below, or get in touch with us to arrange a private viewing!
Australian made, manufactured completely in Brisbane. Sunshine coast beds galore sell solid, quality ensemble bases. Upholstered in durable 'Profile' linen fabrics. Offering a range of the latest fashion colours to select from. Rolled edges, means no need for a valance. Glide legs for ease of moving. These are the perfect combination for a beds galore mattress.
Complete the look with a matching bed head. The latest bedroom trends show how a bedhead transforms the room for that designer look. Plain, studded, 1200/1500mm high.  We have options on styles. Again these are ordered to suit your personal task and the style you are wanting to achieve.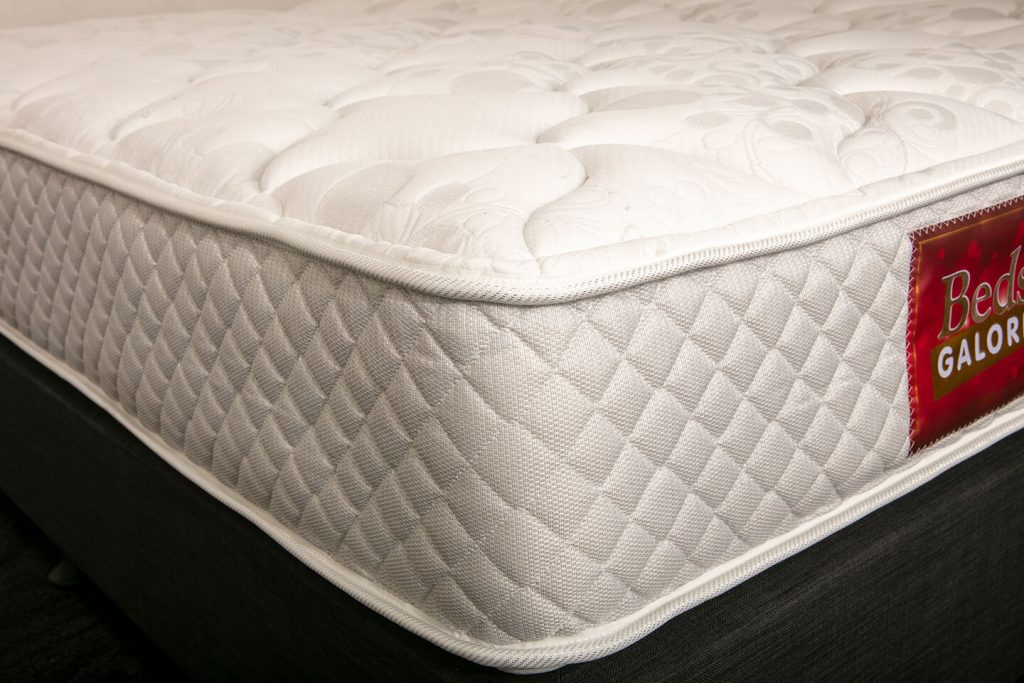 We offer to have your base custom made, fitted with drawers. These are a personal choice on position and amount of drawers you are wanting. Drawers are a popular option at the moment and great use of space for storage.
7 zone, heavy-gauge pocket spring system
10cm foam encased edge for maximum strength
Layers of latex, memory foam, and gel foam
Creates the perfect combination of support and pure luxury
Invest in A High-Quality Bed
It's well known that getting an adequate amount of sleep is beneficial to your overall health. From improving memory to boosting your immune system, there are a number of benefits of getting a good night's sleep.
A major contributor that can impact your ability to sleep is a mattress, yet its importance is often overlooked. A good quality mattress is about much more than comfort. With the right mattress, you will see a wealth of benefits to your overall health. Some benefits of a good quality mattress include:
Have a question about our products?
Leave a message or inquiry
Did you know that you will spend approximately a third of your life asleep? You will likely spend more time in bed than on any other household-related activity!
Sleep is an important part of our lives, and getting enough restful sleep leads to living healthier and more productive lives. Numerous studies conducted around the world have found that insufficient rest not only leaves you feeling crummy, but can also increase your risk of developing serious health-related issues, like diabetes and cardiovascular disease.
Choose Sunshine Coast Beds Galore and let us help you find the right bed for a good night's rest!